Step Back. Detach from the Negative. Allow the Big Picture View to Inform Decisionmaking
Collapse is not a single event. Collapse is a process that unfolds gradually during its early phases and then progressively accelerates with the passage of time.
~~> Corporations Immune to the Justice System by Corrupting the Justice System
Too much wealth breeds too much power and too much power breeds corruption that kills independence and democracy.
This story is but one of way too many examples that are so much like the Julian Assange story in which BigPower abuses its power to suppress <~~> destroy anyone who opposes and/or defies compliance with the CRIMES.
CV-19 is a bulk version of this story in which nations and a planet of peoples are being attacked by the profiteers of pharma.
~~> So, Who's in Charge of This Asylum?
~~> Trying to Save Planet and Humanity From Captured Regulatory Agencies…
~~> Earth's Magnetic Pole Shift accelerating….
"Conservation is simply not enough anymore. We need restoration."
Published onThursday, April 15, 2021by Common Dreams
A photo from Mercy for Animals' drone investigation of Amazon deforestation. (Image: Mercy for Animals)
Ecologists and environmental advocates on Thursday called for swift action to reintroduce species into the wild as scientists at the University of Cambridge in England found that 97% of the planet's land area no longer qualifies as ecologically intact.
"Conservation is simply not enough anymore," said financier and activist Ben Goldsmith. "We need restoration."
~~> Evidence of Fracking Chemicals Found in Bodies of Pennsylvania Children
BYMike Ludwig, Truthout March 23, 2021
State lawmakers in Pennsylvania are demanding an investigation into the public health impacts of fracking after a new study found evidence of harmful chemicals accumulating in the bodies of children and their families living near fracking wells in communities inundated by fossil fuel development.
full article here
~~> Satellite Imagery Shows Northern California Kelp Forests Have Collapsed
Researchers say they're not sure these iconic coastal ecosystems will be able to make a comeback anytime soon
By Alex FoxSMITHSONIANMAG.COM
MARCH 11, 20215.2K7639
The coastal waters of Northern California are changing. A decade ago, hundreds of miles of the rugged seaside were flanked by thick, swaying underwater forests of amber-green bull kelp that were home to fish, abalone and a host of other species. Now, those forests have been nearly wiped out by a series of environmental events that have been falling like ill-fated dominos since 2013.
full article here
~~> Bill Gates and His Fake Solutions to Climate Change
A new report from Navdanya International calls for rejecting Bill Gates' fake solutions and instead supporting an ecological approach to food and agriculture which can provide a long-lasting solution to climate change.By Navdanya International
In Bill Gates' vision, technology seems fated to fix every single damage that has been inflicted on our planet — and climate change has recently been added to the list.
But this is the same mentality that has taken us to the devastating stage we currently find ourselves in, while the only thing improving exponentially is the profits of the corporations taking advantage by selling these very technologies.
full article here
~~> Another Big Economic Bubble About to Burst
The same Michael Burry of The Big Short fame…
~~> Wokester Intolerance vs Liberals and new Conservatives // Equity is NOT equality
~~>The Boy Scouts
The group that built its reputation teaching survival skills to boys – is now struggling for its own survival. Upwards of 95,000 people have now filed sexual abuse claims against the Boy Scouts of America. Today's cover story: How a bankruptcy case has turned into the biggest sexual abuse lawsuit in history. A caution – some of the accounts are graphic.
~~>Black Americans flock to gun stores and clubs: 'I needed to protect myself'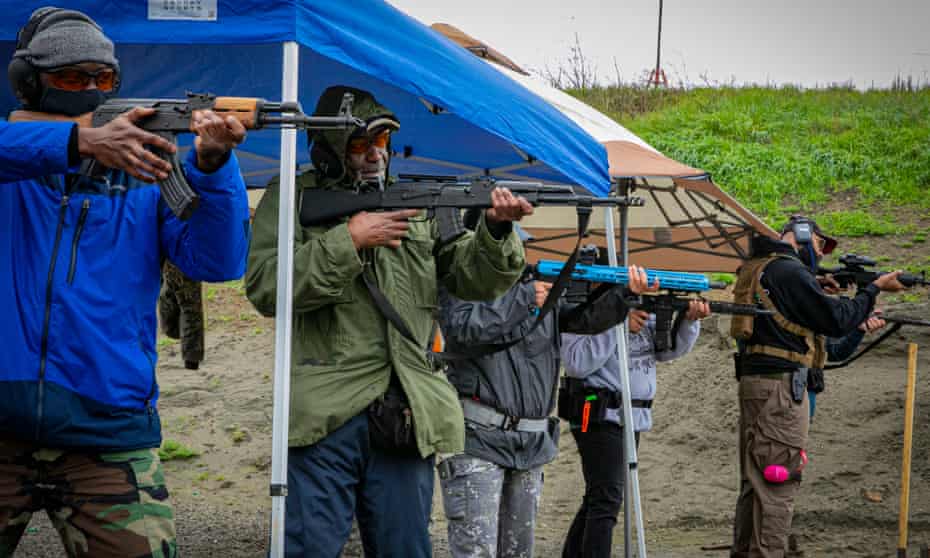 Americans bought a record number of firearms last year. Gun ownership among Black Americans is up 58.2%
full article here
~~> SCIENTISTS CONNECT HUMAN BRAIN TO COMPUTER WIRELESSLY FOR FIRST TIME EVER
System transmits signals at 'single-neuron resolution', say neuroscientists
The first wireless commands to a computer have been demonstrated in a breakthrough for people with paralysis.
The system is able to transmit brain signals at "single-neuron resolution and in full broadband fidelity", say researchers at Brown University in the US.
full article here
~~> How The U.S. Trained Killer Cops Across The Hemisphere
It's not just that our domestic police are brutal. The U.S. has exported its police and military tactics to other countries as well.
The nationwide protests against police brutality sparked by the killing of George Floyd have reignited debates over American policing. But the state response to the protests has also raised the question of where exactly "domestic" law enforcement stops and starts.
full article here