MATTHEW EHRET • APRIL 13, 2022
• 2,100 WORDS • 1 COMMENT • REPLY
A little over 20 years ago, North American Aerospace Defense Command (NORAD) conducted a military exercise that involved a "hypothetical scenario" of hijacked planes flying into both the Pentagon and the World Trade Center.
One year later, on October 24-26, 2000, another "hypothetical" military exercise was played out featuring an airline crashing into the Pentagon killing 341 people followed by yet another May 2001 Department of Defense "hypothetical scenario" which saw hundreds of medical personnel training for a "guided missile in the form of a hijacked 757 airliner" crashing into the Pentagon.
What arose from the smoke and debris of September 11, 2001 was unlike anything the sleeping masses or international community expected.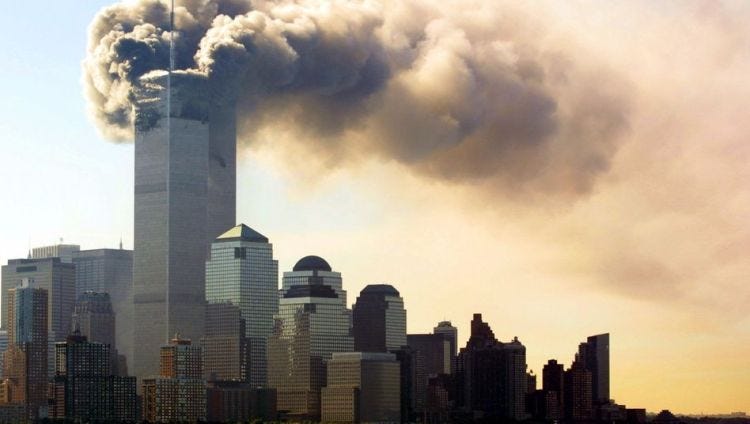 The shock effect so traumatized the masses that quite suddenly, citizens found themselves willing to give up their liberties at home while acquiescing to any retaliatory action desired by their government abroad. The scale of horror was so great that the international community banded together and showed their love and solidarity towards America in the wake of the tragedy with candlelight vigils across Asia, the Middle East, Africa, Russia and South America. Humanity's natural tendency to embrace and aid our fellow man in times of crisis expressed itself like a bright light in a world of confused darkness and a hope for a durable peace awoke in the hearts of many.
Alas, as the world came soon to discover, that hope was short lived.
The Neocon Takeover of America
Police State measures grew swiftly with Ashcroft's Patriot Act of 2001. It is a mistake to call this Ashcroft's bill however as none other than Joe Biden pointed out that his 1995 Omnibus Terrorism Bill drafted in the wake of the first WTC bombings was the origin of the Ashcroft variant. Biden felt no shame stating publically "I drafted a terrorism bill after the Oklahoma City bombing. And the bill John Ashcroft sent up was my bill."