Arctic Circle is already recording 118 F degree days (and summer is just heating up)
By Brandon Specktor – Senior Writer 7 days ago
On the same day last year, air temperatures in the area blazed past 100 degrees F for the first time in recorded history.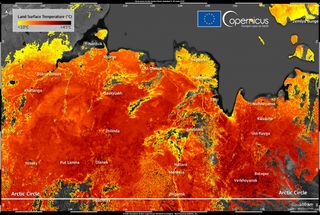 Land temperatures in Siberia exceeded 118 degrees Fahrenheit on the first day of summer. (Image credit: European Union, Copernicus Sentinel-3 imagery)
On the summer solstice (June 20 — the longest day of the year) two European Union satellites recorded a scorching temperature of 118 degrees Fahrenheit (48 degrees Celsius ) on the ground in Arctic Siberia.
This isn't quite a new heat record; as a post on the EU's Copernicus satellite website noted, this egg-boiling temperature was detected only on the ground in Siberia's Sakha Republic, while the region's air temperature (the temperature people would actually feel while walking around) was a toasty 86 F (30 C).
However, that's still an anomalously high temperature for the Arctic Circle — and one that could exacerbate the region's melting permafrost, which is the only thing preventing ancient caches of greenhouse gases from reentering Earth's atmosphere, according to Gizmodo.
Related: 10 signs Earth's climate is off the rails
The EU's Copernicus Sentinal-3A and 3B satellites recorded the high temperatures in the midst of an ongoing heat wave over much of Siberia. The heat spike is, unfortunately, a predictable start to summer, following a spring that saw hundreds of wildfires scorching the Siberian countryside and blacking out major cities with blankets of smoke.
full article here